Projects
Project Archive
We're proud of every site we've built. A complete list of our clients' sites is provided for you to browse, and on this page we've selected sites that showcase particular features.
Tansun Limited
Originally Launched: 4th Nov 2006 - Latest redevelopment 4th Sep 2013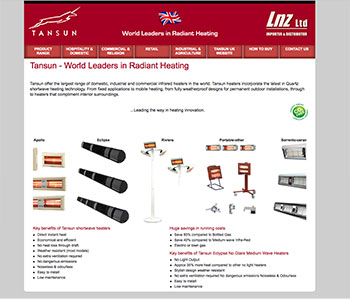 Electric patio heaters -- what a brilliant idea. QuartzHeat Limited have just launched the Tansun elecric, weatherproof quartz heaters for outdoor use and both portable indoor and installable heaters for indoor use. These energy-efficient, cost effective heaters deliver their radiant warmth instantly and directly.
Visit Site: http://www.tansun.co.nz
Categories: Hi Fi and Consumer Electronics, Houseware, Outdoor Accessories
Site Feature:
Custom Data Management Module