Projects
Project Archive
We're proud of every site we've built. A complete list of our clients' sites is provided for you to browse, and on this page we've selected sites that showcase particular features.
Superyacht Support - New Zealand Shoreside Support
Originally Launched: 15th Nov 2011 - Latest redevelopment 20th Aug 2015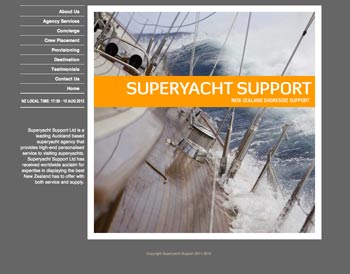 Superyacht Support Ltd is a leading Auckland based superyacht agency that provides high-end personalised service to visiting superyachts. The team have received worldwide acclaim for expertise in displaying the best New Zealand has to offer with both service and supply, and are widely respected for their business acumen. Site has recently been made responsive to mibile ohnes and otehr handheld devices.
Visit Site: http://www.superyachtsupport.nz
Category: The Marine Industry
Site Feature:
Custom Data Management Module
Rotating image pools
Menu Module
Content Management