Projects
Project Archive
We're proud of every site we've built. A complete list of our clients' sites is provided for you to browse, and on this page we've selected sites that showcase particular features.
Nautical Tribe
Originally Launched: 20th May 2012 - Latest redevelopment 15th Jun 2012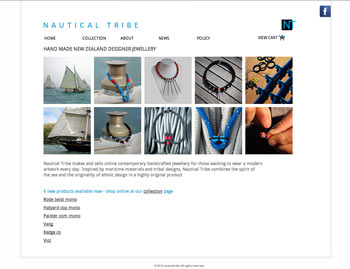 Nautical Tribe creates contemporary handcrafted jewellery for those wanting to wear a modern artwork every day. Inspired by maritime materials and tribal designs, Nautical Tribe combines the spirit of the sea and the originality of ethnic design in a highly original product. We can also custom make to order - tell us what you would like and we'll see if it's possible. All work is sold online.
Visit Site: http://www.nauticaltribe.co.nz/
Category: Jewellery